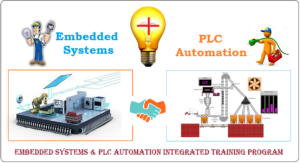 Expand Your Professional Career in Multiple Domain with Single Training Program
Any Industry Always Refer a Candidate with Multiple Skills, This training program will Improve the Chance of Getting Good JOB & Better Opportunity in Future
What is this training about?
This training program involves the Embedded Systems & PLC Automation Modules , Embedded Software, Wireless Modules, Raspberry Pi, IOT, Python Programming, Advanced Microcontrollers & Microprocessors and Embedded Linux with Interfaces, Application Designs ,Protocol build up ,PLC Logic Designing ,PLC Programming ,PLC Interconnections,PLC Simulations & Development & Live Industrial Project Development.
This course is designed under the guidance of IIT Bombay Alumni & Industrial Professionals by looking at the current industrial Requirement of Embedded Systems ,Linux & PLC Automation.
Content & Benefits
============================
Learn Advanced Embedded Systems, Complex Technologies & Project Designing Practically
Learn complex level project programming in detail with Industrial Expert
Learn 32 bit ARM 7 RISC Processor in details with Programming, Internal Protocol Designing & Applications Development with Industrial Expert
Learn Embedded C Programming In Detail
Learn Advanced Raspberry Pi, IOT Automation with Python Programming with Industrial Expert
Learn 8-bit Microcontroller to Clear your Embedded Basics with Applications Designing
Learn Advanced Embedded Linux with Industrial Expert
Learn PLC Logic Designing
Learn PLC Ladder Development
Learn PLC Interconnections
Learn PLC Application Development
Design more than 20 different complex projects
Get a chance to participate & represent your innovative project in International Level project Competition conducting by USA International Body
Get Industrial Standard Certificate from IIT Bombay Alumni which will be very valuable  in Job Search & in further study
100% Placement Assistance in the core domain
Additional Benefits
============================
Get 1 Month's Industrial Internship at Free of Cost

Become permanent Member of " All India Council for Technical Skill Development (AICTSD) " with IIT Bombay Alumni

Chance to attend various technical event organizing by AICTSD
Represent your Innovation on AICTSD Website
Get the free help from AICTSD in your future innovation in technology

Make your resume more strong with AICTSD's Industrial Certificate

Chance to interact with industrial professionals about your innovation & future technology innovations

Chance to attend seminars & give seminars

Make your resume effective & stronger for future campus placements & job after Engineering
Make your resume effective & stronger for further studies like MBA, MS, M.Tech etc.
============================
BE / Btech, ME/ Mtech, Diploma, BSc/ MSc candidates who want to explore their career in Embedded Systems & in Automation Domain
Anybody who interested in Embedded Automation Product Development
Certification
============================
A Government of India (MSME) & ISO 9001-2015 Organisational Certificate will be provided from IITians Embedded Technosolutions
An Industrial Internship Certificate will be provided from All India Council For Technical Skill Development
 Syllabus & other Details
S.No

Parameter

Date

1
Syllabus 
2
Fee
For Fee Details & Offers, Please Contact @ 8828222688
3
Duration
For Regular Batch – 4 Months

For Weekend Batch – 5-6  Months

4
Placement Policy
Click Here


Inform your friends about this Training Program
Share & Help Others