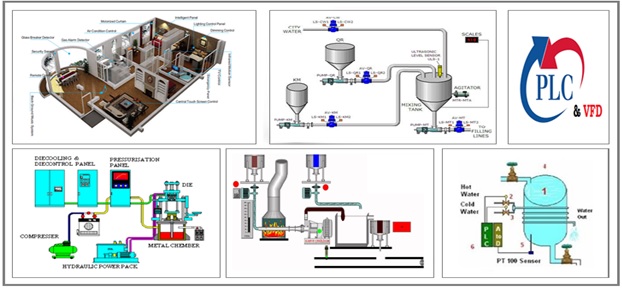 What is this training about?
This training program involves the PLC Automation Systems, PLC & Software, PLC Programming Logic Development , SCADA Design , SCADA Simulation Creation , SCADA Application Development , HMI Logic Developement , HMI Application, VFD Modules with Programming Interfaces, Application Designs & Protocol build up
This course is designed under the guidance of IIT Bombay Alumni & Industrial Professionals by looking at the current industrial Requirement of PLC Automation Development ,SCADA Simulation Testing & Desinging ,HMI Interfaces &  VFD Interfaces.
.
 Eligibility Criteria
============================
BE / Btech, ME/ Mtech, Diploma, BSc/ MSc candidates who want to explore their career in PLC Automation Domain.
Anybody who interested in PLC  Automation Product Development & Application Designing .
.
 Certification
============================
A Government of India (MSME) & ISO 9001-2015 Organisational Certificate affiliated to " All India Council For Technical Skill Development " 
.
 Syllabus & other Details
Call In Case Any Query

 – 

8828222688
S.No

Parameter

Date

1
Syllabus 
2
Fee
For Fee Details & Offers, Please Contact @ 8828222688
3
Duration
For Regular Batch – 2 Months

For Weekend Batch – 3  Months

4
Placement Policy
Click Here